Golf Equipment
Butter Soft Cabretta Leather Gloves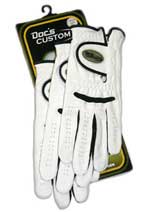 Product Type: Equipment
Code: GLV $19.00
Genuine Cabretta Leather. Reinforced Palm Pad for maximum durability. Dual Flex System provides strategically placed lycra for more flexibility and comfort.
Doc's Custom Ultra Lightweight & Rugged Day-Bag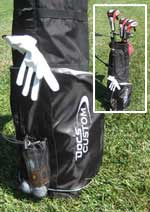 Product Type: Equipment
Code: BAG $39.00
What makes it so special is that it's: Simple. It's collapsible and lightweight. Convenient. Carry a few clubs to the range or for a quick round on an executive course, (it can also hold a full set if you want too). Easy. Rugged, durable and comfortable too. Molded top-cuff with a divider, (so you can separate your woods and irons)... a mesh covered hip pad for extra carrying comfort... a handy side-saddle apparel pocket (for easy storage of your raincoat or windbreaker)... easy to access ball pocket... zippered, velour-lined pocket (to protect your valuables)... a cool glove holder... mesh beverage holder... 2-point adjustable sling for maximum comfort.
First Page Previous Page Next Page Last Page